La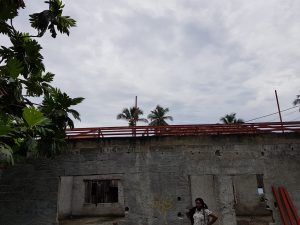 costruzione del tetto nella scuola di Ribeira Funda in Sao Tomè and Principe è partita. Come si vede nelle foto il progetto che ADRA Italia insieme al network sta sostenendo è nella fase d'implementazione.
Il Direttore di ADRA Sao Tomè and Principe ci racconta una bella esperienza di coinvolgimento e partecipazione locale: "Attraverso i nostri incontri consultivi con il Consiglio del governo locale di Lemba, (che aveva iniziato, ma non era riuscito a portare a termine questo progetto scolastico) siamo stati in grado di entrare in contatto con l'appaltatore che ha progettato e avviato la costruzione della scuola. Il giovane era così entusiasta dei passi che ADRA ha intrapreso per aiutare queste comunità a realizzare il sogno di avere una scuola, che si è offerto di usare, senza costi aggiuntivi, travi in ​​acciaio, invece di quelle di legno pianificati originalmente.
Presto i bambini di Ribiera Funda avranno a disposizione uno spazio che consentirà loro di studiare serenamente e continuare a costruire i loro propri sogni.